Orange 45 Minute
This class is taught by: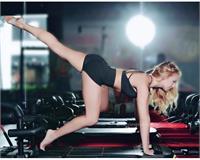 Jessica started dancing with the Joffrey Ballet as a child and always had a passion for fitness. She started her professional dance career very young and into her 20s, dancing in several world tours and award shows for over a decade. Having a strong fitness and pilates background was imperative to her success in the dance world, so Jess decided to become a private Pilates instructor and Certified Personal Trainer in Los Angeles, growing up to train several celebrities including Reese Witherspoon, Steven Tyler, Sean Penn, Sergio Garcia, etc. Jessica stumbled into OTF, took one class and was hooked! Instantly falling in love with the community and found her home away from home. #Basepushallout
The shortest workout at OTF. Typical workout will be 20 minutes of treadmill intervals and 20 minutes of floor blocks including weight room and rowers. Shorter workout but very effective.
Upcoming classes: