Leon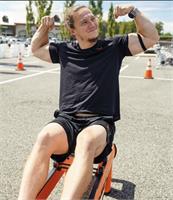 I've always been fascinated with the human ability to improve athletic performance. Started out doing push ups and sit-ups in the playground as a kid. Moved on to lifting weights in 6th grade and I haven't stopped since. As my passion grew so did my knowledge. 5 years ago I started personal training to help others reach their goals and improve themselves. I love making a positive impact in people's lives and I love Orangetheory because I can make that impact on so many lives at once.
Leon instructs the following:
60 Minute Orange Theory Workout




The largest capacity workouts at OTF. 3 Groups training in all 3 areas of Treadmills, Rowers and Weight Room at the same time. The duration of the training blocks for each area will be varied.




The shortest workout at OTF. Typical workout will be 20 minutes of treadmill intervals and 20 minutes of floor blocks including weight room and rowers. Shorter workout but very effective.